"Most people chase success at work, thinking that will make them happy.
The truth is that happiness at work will make you successful."
– Alexander Kjerulf
WORKSPACES AS LOCAL AS YOUR FAVOURITE COFFEE SHOP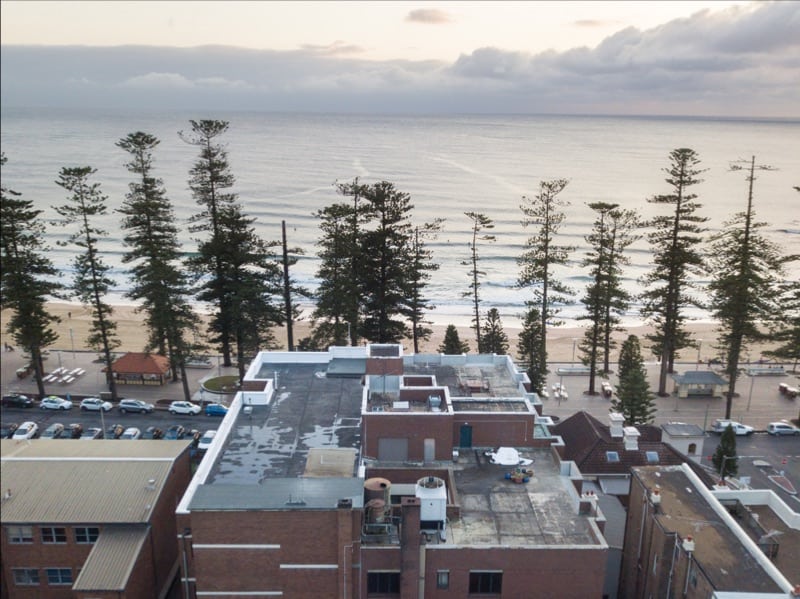 Dust off your WOTSO Passport – we have new sites you are going to want to visit!
WOTSO Manly, positioned just steps from Sydney's iconic Manly Beach, is set to launch later this year. With direct access to all of Manly's local amenities – cafes, gyms and of course, an easterly swell for the surfer's amongst our WOTSO community – WOTSO Manly is the place too set up your Northern Beaches operation. Enjoy everything you have come to know and love about WOTSO – just, enjoy it with views of the ocean!
With WOTSO Zetland set to open its doors in a matter of weeks, we know this location will capture the attention of the entrepreneur eager to maintain proximity to the city, while situating their business amongst one of Sydney's fastest growing industrial hubs. 
Modern event space, sunlit offices, vibrant co-working and an outdoor area to rival your favourite al fresco hang out come Friday night. WOTSO Zetland is an exciting drawcard for those wanting quick access to Sydney's eastern and inner western suburbs, but still wanting the the creative, industrial pulse of a fast-paced work environment. Sound like you? Get in touch with our team today!
Joining two other WOTSO sites in Australia's capital, we're quickly getting ready to throw open the doors to another addition to the WOTSO network – WOTSO Woden!
Located in the heart of Woden's town centre, this WOTSO hub will neighbour Westfield Woden's shopping precinct and will include onsite parking – tick, and tick! However, if you're opting for public transport to and from work – we know this is where all of our best reading (and social media scrolling) gets done – Transport Canberra will soon be extending their light rail network through to Woden.
SPACE LEADER . KAITLYN McLEAVY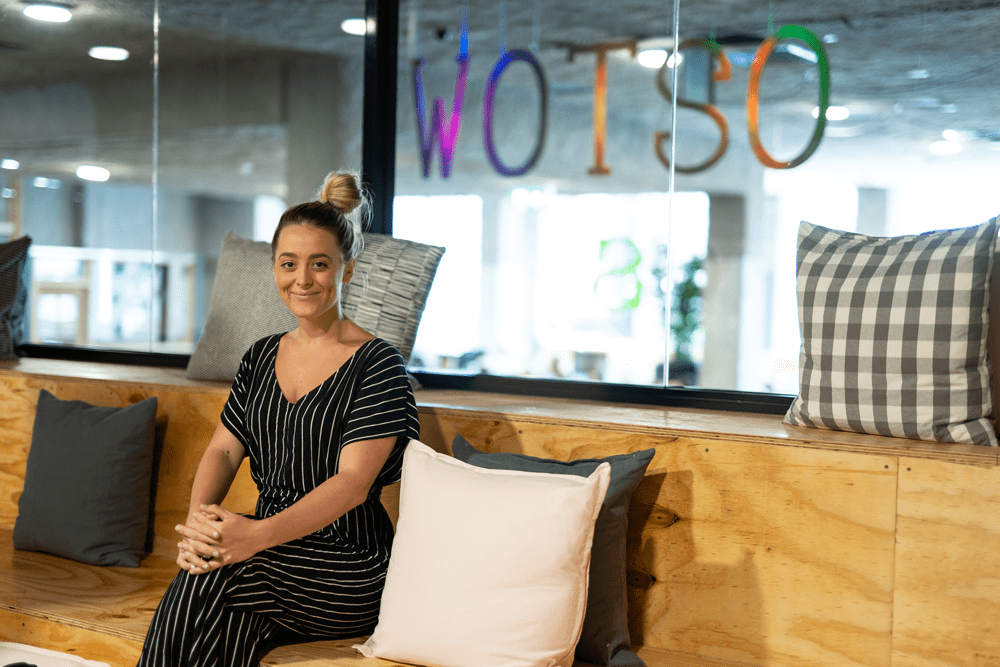 What do you enjoy most about your role as a Space Leader at WOTSO Bondi Junction?
I enjoy getting to know all the different people coming into the space, getting everyone together at our weekly events and also being able to put a little personal touch on the space!
What do you think inspires people most about the co-working environment?
People are choosing to work from here instead of their kitchen bench – they still have the flexibility and freedom to work where and when they want, but they can walk into our co-working space and interact with likeminded people. It leads to ideas, collaboration, networking – you just can't get that at home.
What types of businesses are you really seeing being drawn to WOTSO Bondi Junction?
This is almost impossible to pin point. There is such a variety to what everyone does. For example we have people that are in pest control, IVF, a nannying agency and marketing. It's definitely a mixed bag!
When we can't find you at WOTSO, where is your favourite place to relax and unwind?
You'll find me with my little fur babe, Franky or down at the beach.
If you could describe WOTSO Bondi Junction in three words, what would they be?
Convenient, chilled and collaborative.
WOTSO IN THE PRESS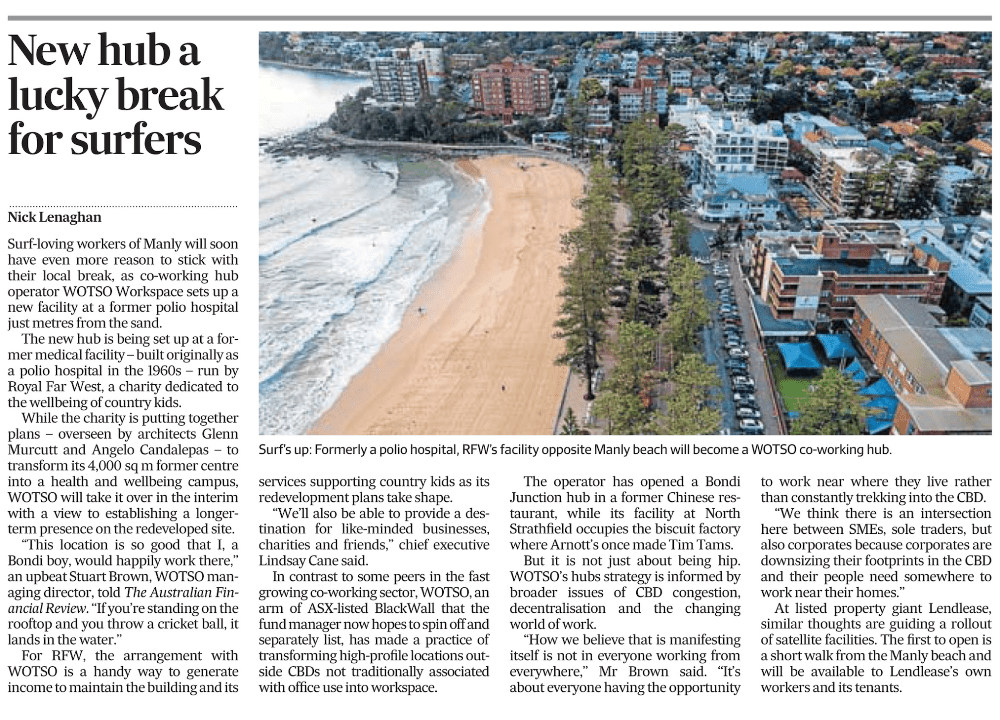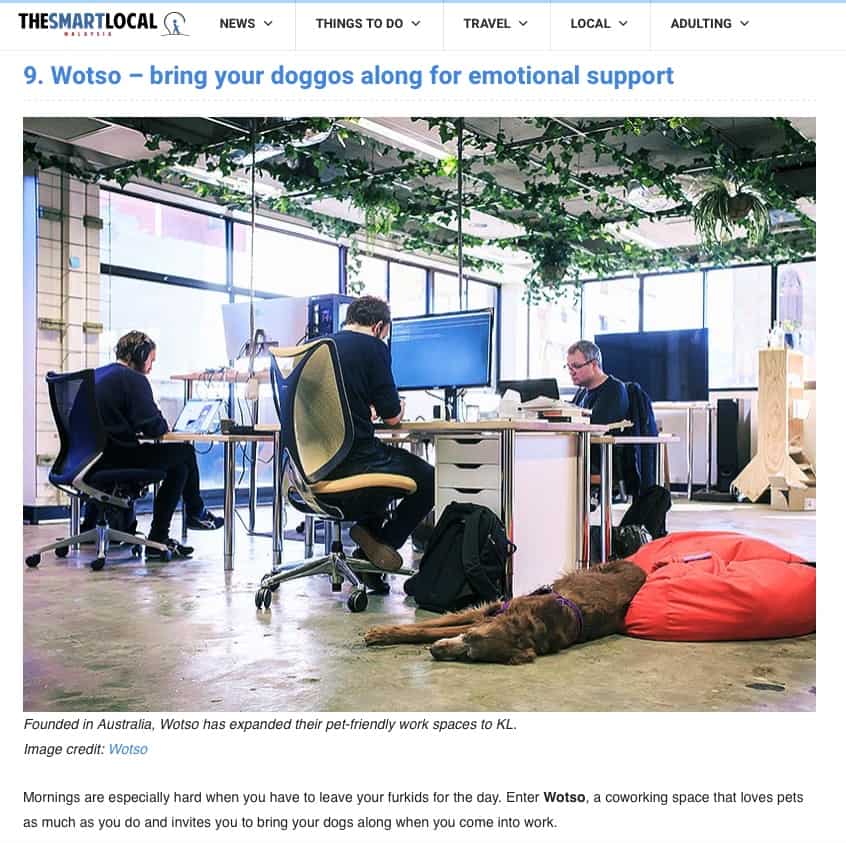 EVENTING AT WOTSO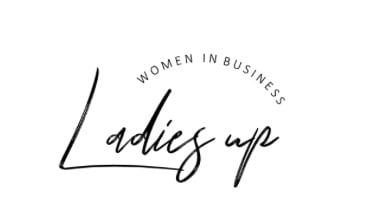 Ladies Up takeover WOTSO Chermside!
Ladies Up is about empowering women to grow their empire through building and maintaining relationships and their network. Founder, Eva Kaszycki, wanted to create an organisation that taught the fundamentals needed to start a business and beyond that, give actionable strategies to go away and implement when building an empire.
Ladies Up hosted their latest event at WOTSO Chermside with female health specialists and guest speakers Alisha Kruger, Meah Robertson and Jema Lee all on the panel.
Want to learn more about how WOTSO can support your next event? Hit the link below, or get in touch with our team directly.