Meet Andrew, owner of ARC Fitness
In a snapshot, can you tell us how you came to be situated in WOTSO?
The truth is, it all came about when I unfortunately broke my collarbone in a cycling accident late last year. After 11 years at Fitness First I had successfully transitioned my business to outdoor during the pandemic lockdowns. However, that arrangement become untenable when I was limited by a sling and what I could carry to and from a vehicle. That's when I decided to find a more permanent solution. I had some clients that worked at the 50 Yeo St WOTSO and I heard there was space available. The rest is history…. that includes a second cycling accident and second broken collarbone.
The gym has just finished renovations. Are you happy with the end product?
​Absolutely. I couldn't be happier. It's been a long process, but it has all come together.
When I first saw the space late last year it was three beautifully furnished offices ready for the next corporate business to move right in. Now it is READY to run, jump, ride, lift, slam, lunge, squat and everything in between.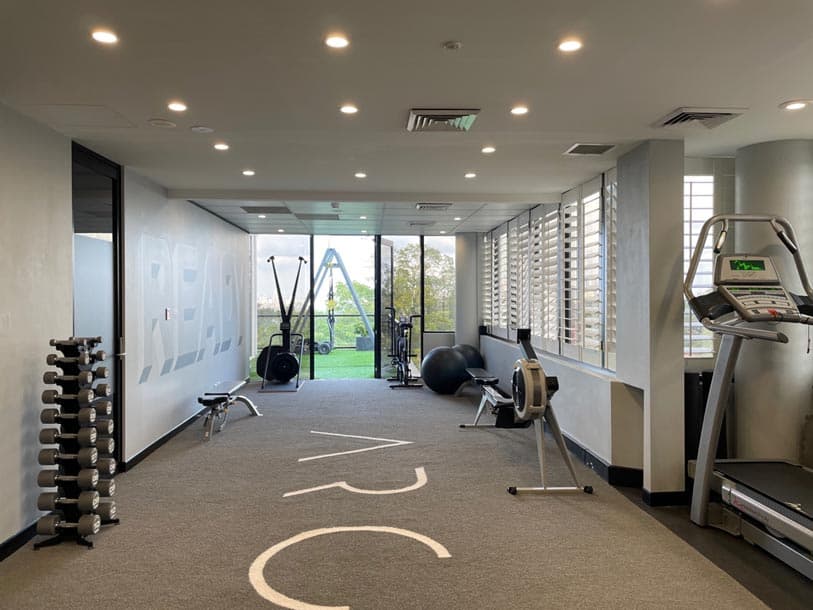 It's been revealed you have been working on a silent spin class. Can you please tell us more about it?
​As we are part of a much bigger community, we need to be mindful of our neighbours. That's why we have invested in the latest audio technology. COVID forced the fitness industry to adapt to training in unusual locations, which led to the development of technology that allowed instructors to transmit their music and voice directly to an app on participants smart phones. This means participants can use their own headphones and smart phones to tune in live to the workout without disturbing anyone in the surround area. Just like a 'Silent Disco' without the need to share the communal headphones.
What classes do you offer? What kind of trainer do you consider yourself as?
​For over a decade I have specialised in group training. I love the dynamic of people coming together to share, compare and compete.
My group sessions bring people of all ages and ability into a safe and welcoming environment where they will be pushed to maximise their time in the studio. Sessions range from strength training, HIIT training, circuit training and spin class.
My background is rowing, having competed at the World Championships for Australia, complemented with a degree in Psychology from the University of Sydney. That experience has taught me that health and fitness is all in the head. No workout is effective if the individual doesn't have the right mindset.
What do you think the most satisfying part of your job is?
​Personally, I get the most satisfaction from training elderly populations to regain their strength and mobility they thought was lost forever. Seeing these clients not just slow the 'aging' process, but reverse it, gives me great satisfaction. You can see a real difference in how they live their lives.
What are your professional and personal goals for the remainder of 2021?
​Professionally I want ARC Fitness to establish itself as part of the WOTSO community. I hope that by the end of the year I can't take the stairs or walk-through reception without saying hello to people that train at ARC Fitness.
Personal goal (call me crazy) is to get back to road cycling. I'm looking forward to racing again and without breaking my collarbone again.
Interested in a training session with Andrew?
Reach out via email: andrew@arcfitness.com.au